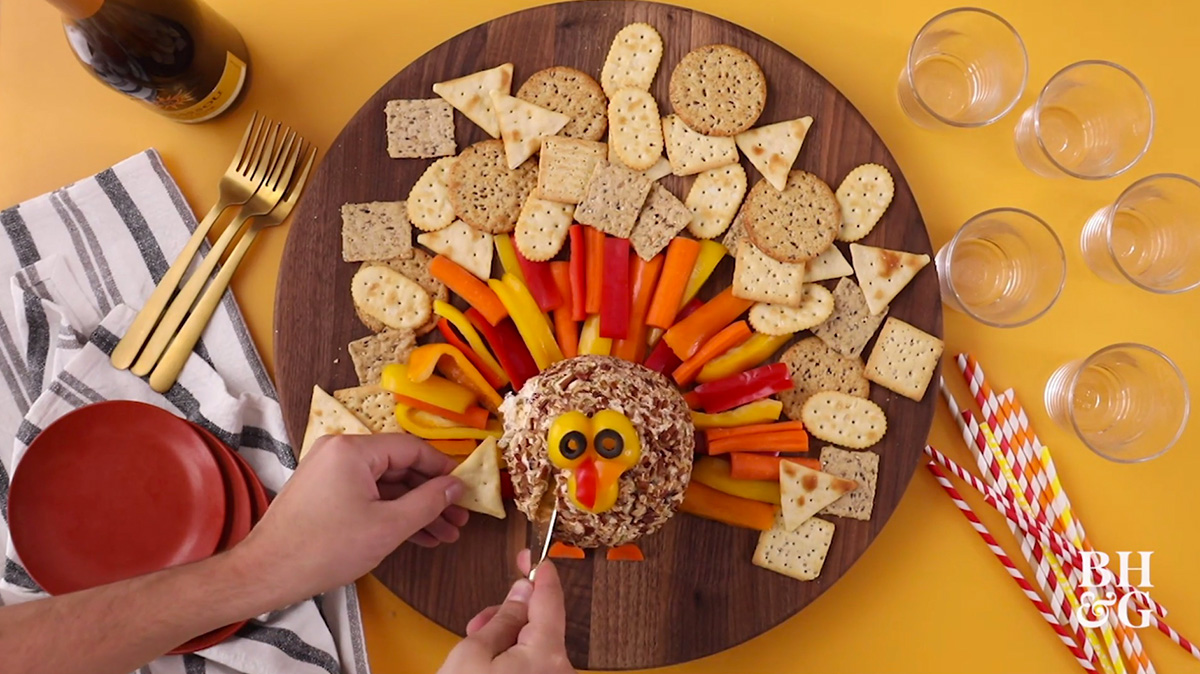 It's hard to believe Thanksgiving is right around the corner! We know you will be finalizing your dinner plans soon and wanted to be sure we shared a fun and flavorful recipe for your gatherings. Thanks to our friends at Better Homes and Gardens, we hope you can delight your guests with this festive turkey cheeseball.
Directions
In a large bowl beat cream cheese with a mixer on medium until smooth. Beat in cheddar, bacon, pomegranate seeds, green onions, garlic powder, Worcestershire sauce, salt, and pepper until well combined. Cover and chill 30 minutes.
Using gloves, shape cheese mixture into a ball and coat in pecans. Place on the bottom half of a round serving platter.
Cut a 1-inch slice from bottom of the yellow sweet pepper and place on top of the cheese ball. Cut the remaining yellow pepper into strips. Create the face of the turkey by placing 2 black olive slices on top of the yellow pepper slice for eyes, a small piece of orange sweet pepper for the beak, and a small piece of red sweet pepper under the beak for the waddle. Arrange carrots, yellow, orange, and red pepper strips around the cheese ball as turkey feathers. Cover and chill up to 4 hours before serving. Serve with crackers.
Ingredients
2 8 ounces packages cream cheese, softened
1 1/2 cups finely shredded smoked cheddar cheese (6 ounces)
4 slices bacon, crisp-cooked and crumbled
1/2 cup pomegranate seeds or dried cranberries
2 green onions, thinly sliced
1 teaspoon garlic powder
1 teaspoon Worcestershire sauce
Salt and pepper to taste
1 cup pecans, toasted and finely chopped
2 black olive slices
1 yellow sweet pepper
1 orange sweet pepper, cut into strips
1 red sweet pepper, cut into strips
3 medium carrots, peeled and cut into strips
Assorted crackers