Although moving is a common occurrence, knowing that doesn't make it any easier. Since moving can increase stress levels in any individual or family, why not make the way easier for your kids?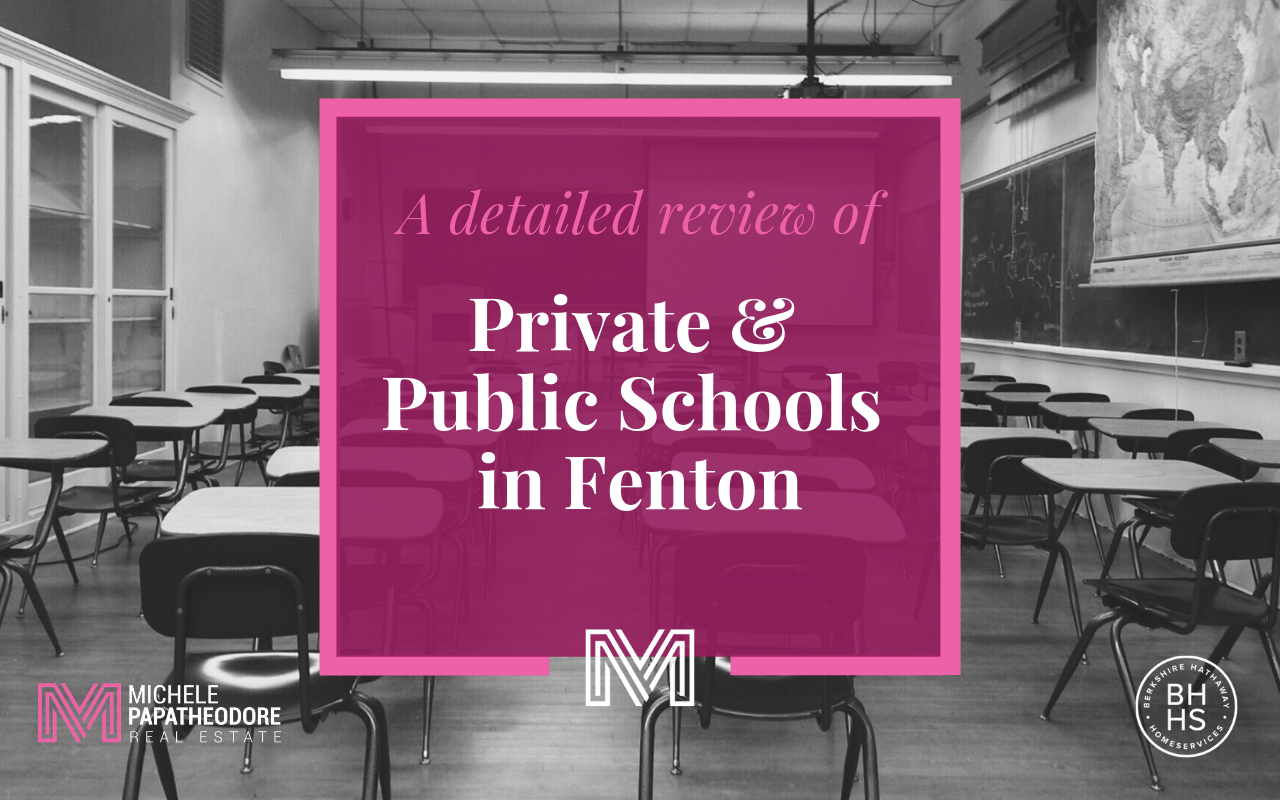 Researching the school options available to your child's education is one way to pave the way for a smoother transition. You're going to want a school that fits your child's emotional and practical needs.
A detailed review of private and public schools in Fenton
Only you can determine which school is the right fit for your child. But we hope the following information on Fenton area schools will empower you to make the best decision.
Private schools in Fenton
Now let's start off by talking about the private school options in Fenton. If public school is more to your liking, we have reviews for those too!
Fenton Montessori Academy
For infants, all the way to pre-school, Fenton Montessori Academy says they'll give your children the individual love and nurturing care each child requires during their earliest years. They strive to encourage creativity, "focusing on cognitive, literacy, social-emotional, and physical development in a nurturing environment."
They offer care year round, available between the hours of 6:30 a.m. to 6 p.m.
On Facebook, the academy was recommended by 21 people. Based on the opinion of four people, they have a 4.8 rating on Facebook. Google reviews appear stellar. One reviewer is a parent who says she walks into a clean establishment each day.
St. John The Evangelist Catholic School
This Catholic school prides itself in cultivating a faith-based community for your child's education. They strive for a disciplined, structured, and positive learning environment.
In its program, the school caters to families from preschool through 8th grade. If you're looking for an education with an emphasis on religious morals, this may be a good fit for you.
While the Google reviews are a mixed bag, their GreatSchools.com page seems to carry more positive weight.
Adelphian Junior Academy
Another faith-based school in the area is the Adelphian Junior Academy. It's a Seventh-Day Adventist school. The school serves students from pre-K to 10th grade.
Overall, students and parents seem pleased with the school. It's a small operation so if you're looking for a more one-on-one approach in your child's education, a smaller school like this may fit the bill!
Public schools in Fenton
Now onto the public school category! If public schooling seems a better way for your family, you'll find the following reviews helpful in pinning down the right school for your child.
Fenton High School
Fenton High School prides itself in excellence with outstanding students and lifelong learners. From the 15 reviews left on Google, the average rating is 3.3 stars out of five stars.
On GreatSchools, it's rated above the average in contrast to other schools in the state. Notably, this school is good for college and career readiness.
Andrew G. Schmidt Middle School
Andrew G. Schmidt Middle School averages 5/5 on both GreatSchools and Century 21 reviews. The school has about 800 students. There's an average of 22 students per teacher. Impressively, 87% of students pass Algebra 1 while the state average is only 84%.
Ellen St. Campus (World of Wonder)
Fenton's Ellen St. Campus (World of Wonder) offers an early childhood program for three and four-year-olds. They have a Great Start Readiness Program and Early Childhood Special Education. Facebook reviews average to four out of five stars.
North Road Elementary School
North Road Elementary gets four out of five stars on GreatSchools. The school is an international baccalaureate authorized school. The school carries a global vision as they teach students to work hard and respect others.
State Road Elementary School
Currently, reviewers give five out of five stars on Facebook for State Road Elementary School. Serving 477 students, the school performs above the state average on state tests. However, according to GreatSchools, State Road Elementary is below average in helping disadvantaged students.
Tomek Eastern Elementary School
On GreatSchools, you'll find that Tomek-Eastern Elementary School earned five out of five stars. This elementary school serves 465 students. Unlike the previous school on this list, this is above average in how it serves those students who are disadvantaged.
Choosing the right school
Above is a list of schools available to your family if you're settling down in the Fenton area. Of course, we don't want to forget, there's also home education, a viable alternative that has proven a better fit for some families.
Whatever you choose to do, make the extra effort to visit the school you're interested in and visit with faculty. And after a long day of searching, why not take a break to explore some of the fun activities that Fenton has to offer?