If "home is where the heart is" and the kitchen is the heart of the home, then kitchens must be pretty important to our wellbeing. They do more than just provide a place to prepare food. As a homebuyer, a great kitchen might be high on your list of priorities. However, you might have some other priorities, too – like minimalism and a clutter-free look. That's why today, we want to introduce you to a type of kitchen we think you should take a look at: a hidden kitchen.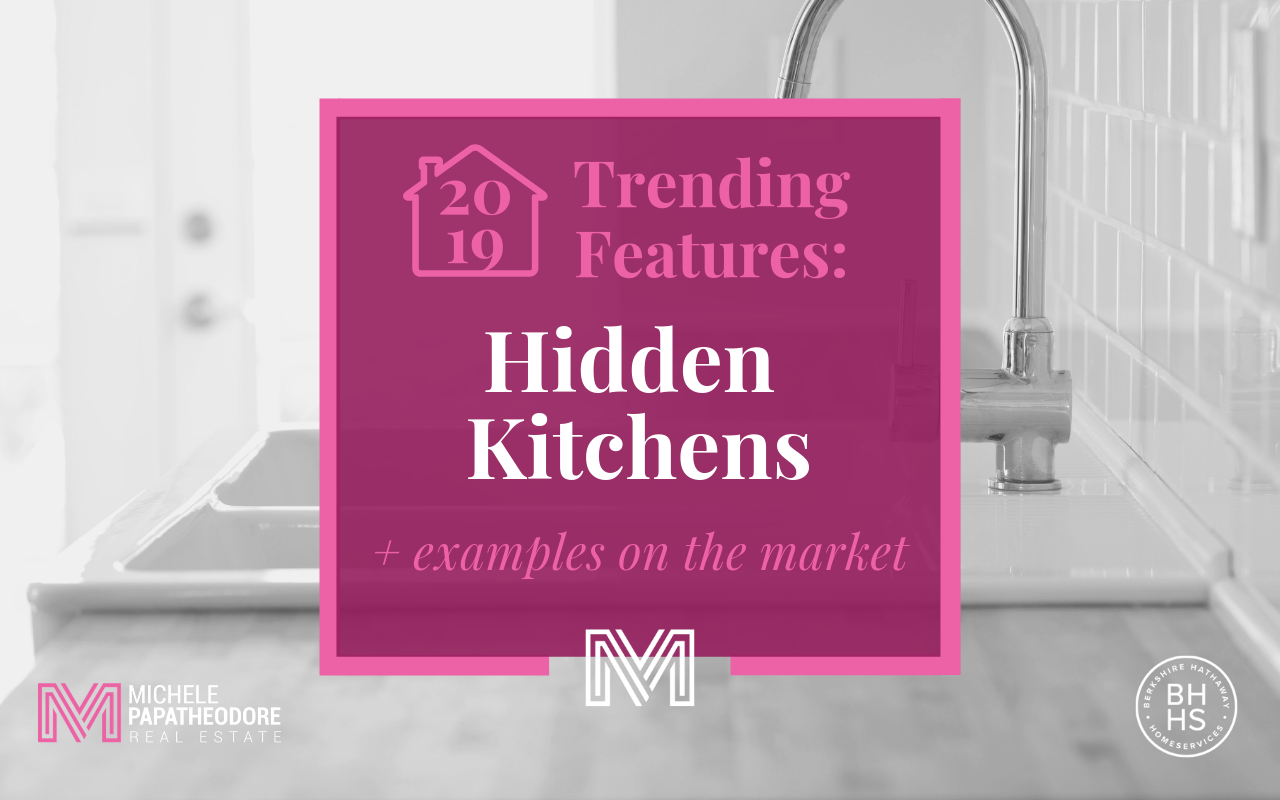 Other priorities
If you're going to be preparing food in your new domicile, chances are you're going to want a kitchen. Everyone needs to eat after all. However, what you want your kitchen to look like will vary from buyer to buyer. Some buyers might like a kitchen that takes center stage. Conversely, other buyers might be looking to take a more subtle approach.
Kitchen chaos
Do you ever feel like too many canisters, that large crock of spoons, and the unsightly basket of bananas are crowding your countertop? Not to mention the dish soap and hand soap. And, of course, the hand lotion you need, too. Then there are the pans hanging on the wall because there simply isn't room in your kitchen cabinets for them so you had to turn the wall into storage.
Yes, these are items we use (even daily, some of them), but that doesn't necessarily mean we want to see them all the time. A stand mixer on the counter, for instance. How many of us have been frustrated at the number of useful or even necessary items hanging out on our kitchen countertops?  Some homeowners don't mind a surface visibly stocked with their cooking utensils. But others may prefer things to be less obvious.
To see or not to see, that is the question
Necessary or not, you wish some of these things could at least be stowed away out of sight. As it turns out, you're not the only one wanting this important part of your home to be a little less obvious.
How much space do you need?
When it comes down to it, some of you may feel like you could afford to keep things out of sight and downsize at the same time.
You still want a sink for washing those veggies and a bit of counter space for chopping them. Yet, truth be told, you may not feel you need an expansive space. Yes, you're still hoping for an oven. And a dishwasher would be appreciated, too. But in your desire to keep things understated, you feel like you could opt out of an enormous kitchen.
And you'd like to keep things just a little more subtle. Your stand mixer won't be a part of your decor. In fact, you wouldn't mind just keeping everything out of sight. Though not necessarily out of mind – because you'll still be getting hungry from time to time.
Just what is a hidden kitchen?
Enter the hidden kitchen. This is one way to reconcile the need for food prep space with the desire for a minimalistic appearance. Actually, the name is a bit of a giveaway. As you've probably guessed it's a concealed cooking space.
How does one conceal their cooking space? As you might expect, there's more than one way. Pocket doors, bifold doors, even cabinet doors are options. And taking it to the next level, there's this unit from General Electric that's like a kitchen in disguise.
Cookspace behind closed doors
Unlike the large kitchens that some homes feature prominently, a hidden kitchen can offer you a more obscure cooking area. Kitchens can emerge from behind doors or panels, revealing that's it's possible to have a kitchen that simply doesn't look like one at first glance.
Unsurprisingly, just as you find variety in the appearance of normal kitchens, hidden kitchens vary, too. The way the kitchen is hidden can differ (including the type of door and the color or material, too). Pocket doors can be put to work, as can bifold doors. Even what looks like upper cabinet doors can swing away to reveal more than your usual storage shelves. Tug on that cabinet handle and you might find counter space, too.  
To illustrate the differences possible, let's explore some of these lovely, intriguing spaces.
1. Behind the blue
Those of you who find yourselves irresistibly drawn to the color blue will love this one. A kitchen featuring the color might be a dream come true to you. But, this isn't your typical blue dream kitchen. It's a fresh-looking room with an arresting blue hidden kitchen (follow the link and use your arrow keys to navigate to the 3rd picture). Talk about making the most of your space!
2. Back to black
However, if blue doesn't grab you but you're more a fan of black, take a look at this place. Check out the compact strip of kitchen shielded by elegant black doors. White walls provide delightful contrast, and we love the ruddy floor tiles.
This could provide great inspiration if you're looking to tap into the black and white look while maintaining a tidy appearance in a confined space. Who says you have to have a huge area to create an elegant kitchen?
3. Wooden walls?
What if an expanse of light-colored wood panels could suddenly fold away, display a kitchen sink, countertop, and simple white cabinets. While it might sound like an idea from an imaginative book, this is no magic act. Actually, it's a kitchen.
Plus, a kitchen like this could save you some sanity when unexpected guests arrive for a chat. No time to clean up the counter? It's easy. Simply close the doors.
4. Now you see it … now you don't.
That's not the only kitchen with a disappearing trick. This London apartment is under 400 square feet. So it's no wonder its owner opted for a kitchen that could be concealed behind tall white doors. Check out the tidy appearance it lends to her small space when the doors are shut.
But even when the doors are open, her cooking space is gorgeous – especially with that masterful pop of blue. Against the white, it's a beautiful look.
5. What looks like a garage door but isn't?
Last, but certainly not least, we know this one sounds like a riddle. It's not a riddle, though. In fact, it's not even a garage door though it might open like one. What hides behind these horizontally-folding panels isn't what you'd find on the inside of a typical garage.
Instead, here's an impressively-engineered hideaway that turns the idea of bifold doors on its head (or rather on its side). Even if it's a surprising twist, we think the end result is modern (possibly futuristic) yet fascinating.
Other trending kitchen design features to know about
Of course, hidden kitchens aren't the only kitchen feature you may find you love. Here are some other design elements to consider to minimize the effect of an overcrowded kitchen workspace.
Windows, windows, windows …
Ditching the upper cabinets in favor of windows. This is a huge plus if you want your kitchen to be brimming with natural light. And one thing that could make it possible is having adequate storage space in your other cabinets.
For instance, if you can "get away" with the storage space in the lower cabinets and elsewhere, you'll love the light this lets in. And lower cabinets with spacious drawers could save you from those "climb on a chair to reach what's at the back of the top cupboard" moments.  
Gateway to the outdoors
Letting the outside in through more than just the windows. Having patio doors to the outside could be the answer if you dream of a kitchen with easy access to your outdoor area. It's a perfect way to have barbecues and parties that flow between the patio and the kitchen.

What could be more delightful than having guests on a weather-conducive day and being able to host seamlessly on the outside and the inside of your home? Plus, access to your grill will be convenient as you prepare food at your counter and cook it on the patio. Guests can visit as you're chopping and mixing at the counter or they can relax in your wicker chairs while you flip the burgers.
Captivating kitchens in homes on the market
As we've just explored, hiding a kitchen can maintain tidiness in a small space. Concealing your cooking space behind folding doors or pocket doors might sound like a good option for a studio apartment. However, in larger homes, the kitchens may blend with the rest of the house, feature modern cabinetry, and have places to hide small appliances, as seen in the houses below.
If you're feeling charged up about kitchen possibilities, let's take a few moments to explore some kitchens in homes on the market locally. Noting features you appreciate as you browse through these homes' photo galleries may help you identify more of your personal preferences.
Modern kitchen (7037 Driftwood)
Here is a kitchen harnessing the beauty of white and blue for a fresh, modern look. Plus, the island offers space for food preparation or visiting with guests while you put final touches on dinner. Also, note the two above-sink windows letting in natural light (and the view), augmented by inset lighting.
Elegant kitchen (White Lake)
This stately 6-bedroom home showcases an expansive kitchen. With its spacious layout, cooks won't have to worry about stepping on each other's toes. Additionally, the space is mostly free of visible appliances – a joy to those who like to keep their living space open and uncluttered.
Contemporary with windows (7210 Theater)
Here is a kitchen for the times when man-made lighting simply doesn't cut it. In fact, if three windows above the sink don't quite let in enough daylight, you'll still be well set up. There are skylights, too. And as if that weren't enough, light can also pour in through the glass doors opening onto the deck. You won't have to worry about not being able to get a glimpse of the outdoors while cooking here.
You may be so busy looking at your home's surroundings that you won't have time to look at the inside. But if you do, you'll notice recessed lighting and spotlight fixtures and cabinets that blend with the walls.
A bit more hidden away
If you were hoping for a little more subtlety from a kitchen, take a look at these Detroit homes that limit most of the kitchen to one wall (other than the island). And, in Manhattan, here's another home that stows the kitchen along a single wall.  
Talk with your agent
You're the one who knows if you have particular features you really want in a house. And if you do, be upfront about it. While you may not be able to have everything, let your agent know at the outset if there's something you have your heart set on.
If so, now's the time to discuss this (and any other specifics you're looking for) with your real estate agent. Be sure to communicate to them what type of priority this home element is. Is it a deal breaker or simply the icing on the cake? Also, consider asking for feedback from them on your preference. Perhaps they know of others homebuyers who have searched for the same feature. And they may know how easy it is to find and how the homebuyers liked it once they moved in.
Is it available?
They might be able to give you an idea of how popular what you're looking for is. And if your preferred feature is quite new or uncommon, they can give you a heads up that it might take a bit longer to find a home with those specifications. That way, if you're determined to find a home with just that detail, you'll know ahead of time to gear up your patient side. Once you have an idea of what elements you're looking for in a kitchen, take some time to review other factors that could affect your home buying preferences.
Your own kitchen
Getting a kitchen you'll enjoy cooking in might be quite high on your priority list as you look for a new home. So, jot down your preferences then try to get a feel for whether what you like will be available in the area. And if you want to know more about the real estate market in Fenton specifically, head over to our Fenton's Current Housing Market vs The National Real Estate Market.