Fenton and its surrounding areas are a treasure trove of historical homes! And each home carries its own tale to tell.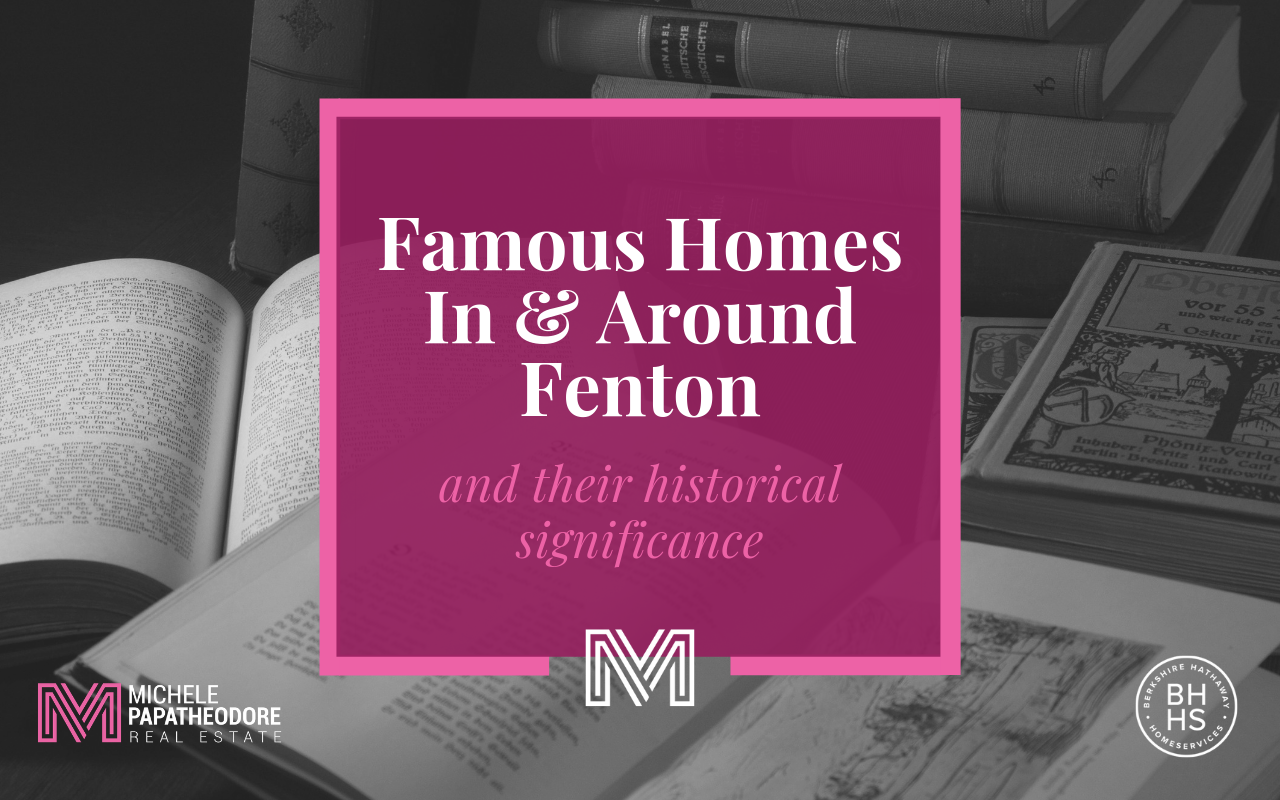 There's something quaint and nostalgic about old homes — their walls carry the stories of individuals and families who've gone before us. Their everyday woes and victories are forever a part of the home, spanning generations upon generations.
Famous homes in and around Fenton & their historical significance
History buff or not, you're bound to find Fenton's history intriguing. Read on as we showcase some of the area's historical homes and their histories.
Robert P. Aitken Farm House
Holding an Italian style in its design choices, the Robert P. Aitken Farm House was constructed by a New Yorker who moved to Michigan in 1842. His name, as can be guessed, was Robert P. Aitken. He and his wife, who was also a New Yorker, made it their home.

Robert was a farmer and he served as a soldier during the Civil War. He was also a politician — supervisor of Flint Township and representative in the Michigan Legislature.

Later, his son, David D. Aitken, also worked on the farm. He would then serve in the U.S. House of Representatives.

The house itself has two floors. Owing to the home's aesthetic is a cupola with scrollwork brackets and arch windows. A hip roof and double brackets are also part of the design. Hints of Greek Revival architecture can be seen in the gable roofs and eyebrow windows.
This home is at 1110 Linden Rd. in Flint, MI.
Col. J. Hinckley House
There's not much information on Colonel J. Hinckley, who built the house in 1868. But we do know that the home was later occupied by prominent movers and shakers such as industrialist A.J. Phillips, merchant Brent Birdsall, Aetna Cement Company president Earl Bunce, and First National Bank of Fentonville founder David Latourette.
This home is located at 210 High St., Fenton, MI.
Morris A. Knight House
The Morris A. Knight House was constructed by the successful business owner, Morris Knight. Built in 1887, it was there that Morris resided until his death in 1918.
His wife, Harriett Knight, continued residence in the house until her death in 1935. The couple's youngest daughter was the next owner. She lived in the house until 1977, when she died.
Morris Knight was born in 1857, in the town of Detroit. His mother and father were businesses owners there and later moved to Flint to open a shoe store. Morris left the area in 1874 but returned in 1876. Upon his return, he opened his own store with a partner. The store proved successful and continued to grow and expand into a second store in Bay City.

The store prospered until 1932 when the Great Depression brought it to a close.
This home can be found at 1105 Church St., Flint, MI.
John McAra House
Located in Davison, Michigan, John McAra built this home in 1892. The home has a sophisticated design in the Queen Anne style. It has a slate roof and a wrap-around porch. Ornate carvings cover aspects of the gable ends.
This home is located at 2157 Irish Rd., Davison, MI.
Robert J. Whaley House
In the Robert J. Whaley House, you'll find the stories of businessmen — both successful and unsuccessful — as the house was passed from one hand to another.

It was Edward H. Thompson who purchased the land in 1847. Whether it was he or his son-in-law who built the house, history does not provide clarity on that. It is assumed that the house was built around 1873. The property was then sold to James Briscoe. James built a larger house, attached to the original structure.
Due to his poor business savviness, Briscoe had no choice but to sell the home in 1884.
After Briscoe, New Yorker Robert Whaley came into ownership of the home. In 1877, Robert became director of Citizens National Bank, eventually becoming the bank president.

The house is now a museum, found at 624 East Kearsley, Flint, MI.
Edwin Trump House
This is another home owned by a prominent businessman. Here we have Edwin Trump, president of the Trump and Wilmot Bank, who built the home in 1867.

Interestingly, it's said that the construction of the house came as a result of a contest between Edwin and his partner George Wilmot. They wanted to see who could build the most extravagant home.
The home is at 801 S. East St., Fenton, Michigan.
Take a look!
Whether you're interested in the area's history, or you just want to get to know it a little better, why not visit some of these sites yourself? You may find your dream home is just around the corner or in the same neighborhood! If you plan on making it an all-day excursion, schedule in some time to visit these local attractions.